Yosemite has long been a place of inspiration for artists, climbers, and nature lovers. Beginning in the 1920s, Ansel Adams' stunning black and white photographs of Yosemite drew attention to the park's beautiful landscapes and iconic sites like never before. Following WWII, climbers descended on the park and agonized over how to ascend the magnificent sheer walls. In their attempts, failures, and eventual successes, they created a cult following in Yosemite like no other climbing area in history. And all along, campers and hikers have been coming here to lose themselves in the park's magnificent mountains and valleys.
The most famous and beautiful section of the park is Yosemite Valley, home to big-name tourist attractions, like Half Dome, El Capitan, and Yosemite Falls. Outside the valley, two main roads provide seasonal access to other areas of the park. Glacier Road allows access to stunning views over the Yosemite Valley. Tioga Road crosses the park in an east-west direction and runs through alpine scenery, where you can find lovely, and often less busy, hiking trails. Due to the altitude, Tioga Road opens later in the spring than Glacier Road. While the most famous sites are concentrated in Yosemite Valley, there are things to do all over the park, from hiking, biking, and climbing, to visiting museums and galleries.
1 Yosemite Falls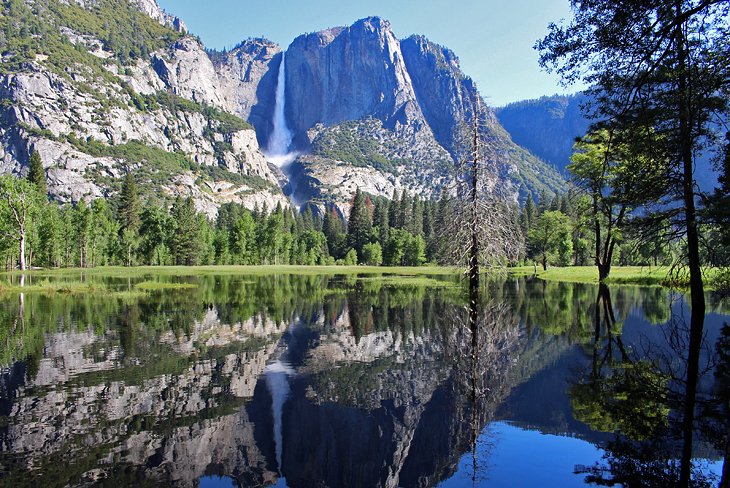 Tumbling over a granite wall and pounding the rocks at the base of the cliff, Yosemite Falls is one of the most memorable and striking features in Yosemite Valley. Repeatedly popping into view over treetops and around corners as you drive through the valley, the falls look different from every angle, and it's impossible to take your eyes off.
You don't have to hike or even get out of your car to appreciate the beauty of this waterfall, but the most complete view, and one of the best views, of the falls is from the start of the Yosemite Falls hike, along the non-handicapped route on the left side of the river. You can walk right to the base of the falls with minimal effort and feel the mist sweeping over you. Another outstanding perspective can be had from the picnic site at the Swing Bridge.