The cobalt blue water and turquoise bays lined with glorious stretches of beach make Lake Tahoe a dream destination for summer camping in California. Watersports, hiking trails, and the surrounding mountains entice campers, who come here to relax or find adventure. Daytime temperatures are not oppressively hot, and nights are a wonderful temperature for sitting around a campfire.
South Lake Tahoe is one of the most beautiful and popular areas around the lake. You can find private, city-operated, and government-run campgrounds, some of which have only a dozen campsites or less, and others that can accommodate 200 to 300 tents and RVs. Campgrounds are seasonal and only operate from spring until fall, usually from mid-May to mid-October, but some campgrounds may have a more limited season depending on the year and conditions.
1 D.L Bliss State Park Campground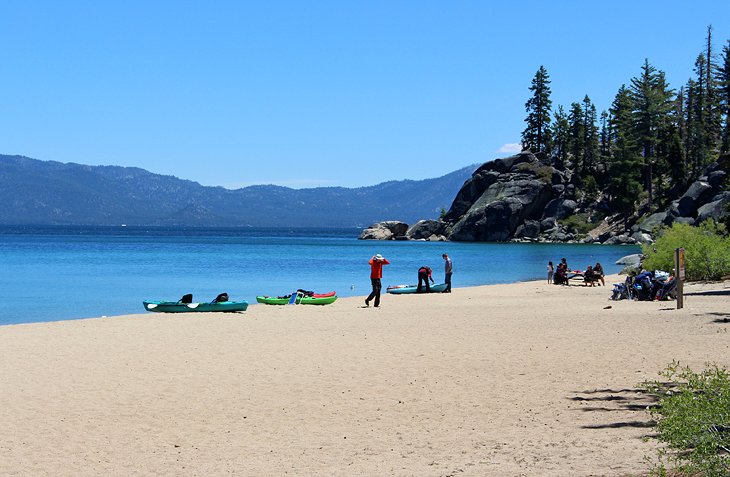 D.L. Bliss State Park has one of the most scenic locations on Lake Tahoe. A beautiful stretch of golden sand, bounded by scenic rock outcroppings, lines the waterfront. The water is crystal clear, and in the distance, you can see the mountains on the opposite shore. Kayakers can put in from the beach and explore the shores, children can play in the shallow water, and hikers can access the popular Rubicon hiking trail directly from the park.
The park's campground is set high up above the lake, with sites closest to the lake offering glimpses of the water through the pine trees. Sites are set in a heavily wooded area and are generally well-spaced and private. The campground is divided into five loops, all of which are more than acceptable. The Beach Camp Loop, which includes sites 142 to 165, is closest to the beach and is the most desirable camping area in the park.